I know my posting habits have been completely pitiful lately. For a while it seemed like I was really distracted and had lots of other things demanding my time and attention, and then when things began to feel like they were calming down, I started just diving into a ton of books. So, basically, lately my life has been wrapped up with buying and moving into a new house, getting settled in a new town, and reading tons and tons of new books.
And, that leads to the main topic of my post today. Today I really really want to talk about this great book that I just finished reading,
The Amazing Adventures of Kavalier and Clay
.
So, here's the lowdown on this great book...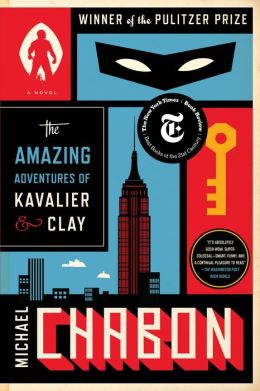 Title: The Amazing Adventures of Kavalier and Clay
Published: 2000
On the surface, this book is about a couple of young guys running around New York in the 1930's, which happens to be the heyday era of super hero comics. These two young men come up with their own idea for a comic, it gets picked up, and they become very successful.
But, when you dig a little deeper, this book is about so much more. So many other topics are addressed and covered within the story. There are escaped Jews that are in New York to escape the horrible things happening in Europe. There are Houdini references, and lots of information about the skill of escape artistry. One characters even spends spends some time in Antarctica fighting the Germans. So, obviously the scope and breadth of this novel is extensive.
Josef Kavalier and Sammy Clay are the two main characters in this book, but in my opinion, neither of them were very likable. They are both very faulty characters that make questionable, and even terrible decisions without thinking them through. Even though I quite liked this book, I didn't find the characters to be very relatable at all. I did enjoy the "background story" on Josef Kavalier and I wish that part of his life had been fleshed out a little bit more.
Overall, I liked this book very much. I particularly enjoyed the sections of the story that shared the narratives of the comics and the characters created by Kavalier and Clay. They were very detailed and well thought out plots. It was like several small stories within this larger novel. Each had their own characters and plots that were completely developed.
I would definitely recommend this book really to anyone who would want to read it. But, it would probably be particularly enjoyed by anyone who is into comic books, specifically "old school" comics like Superman. I would also suggest this to anyone who enjoys WWII fiction. Although this isn't directly set in WWII, this historical setting and the background information are completely tied into the development of the story.
All in all, I really enjoyed this book. It is quite lengthy and took me quite some time to get through it, but it was well worth it. I plan to read more by this author in the future.
Have any of your guys read this book? What did you think? I would love to hear other opinions on this book.