Well, its been a while since I've link up with the ladies that are responsible for this amazing Harry Potter link up, but I am super excited to be linking back up with them. This is such a great link-up and I always have fun with it.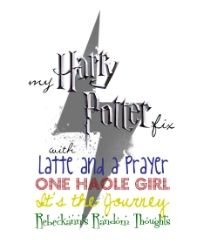 So, here we go, on to this week questions...
1. Assuming you were sorted in Harry's year, which character do you think would be your best friend?
Well, I like to think that I would have been part of the cool crowd, but more than likely, I would have had more in common with Hermione. And we all know that Hermione was not necessarily one of the "cool" kids that first year. But with the love of books and a studious nature that we both have, I think we would get along quite well.
2. What season at Hogwarts would be your favorite?
Didn't even have to think about this one! Hands down, Winter would be my favorite. Since I live in the very south of Arkansas, most of the time our winters are on the mild side and our summers are unbearable. So, I would be thrilled to experience a REAL winter with snow and everything. Plus...everyone has to agree that Christmas at Hogwarts would be AMAZING!
3. What class do you think you would excel in most?
Being the nerd that I am and considering one of my double majors in college was History, I think I would do very well in History of Magic. I think I would enjoy Flying, but I'm not sure how well I would do.
4. Would you be involved in any extra-curricular activities at Hogwarts?
Well, I was a bit more athletic in high school than I am now, so I think I would have tried out for Quidditch. I might now have made it, but i think I would have at least attempted.
So, how about you? Stop by and join the link-up!