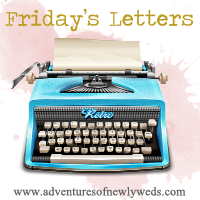 Today, I'm linking up with Ashley for another edition of Friday's Letters.
I'm super excited about you. I'm looking forward to my first official day next week. Hopefully, I'll like you much more than the last one.
When are you going to allow me to play? For several years now I have been trying to get on the show. I know I could win tons of money if you would just give me the chance.
You make my summer! I look forward to your crazy houseguests all year long, and this summer has been no disappointment. This summer I'm rooting for Ian!
Finally! For the first time in my life I will not be enrolled in any classes this fall. Since I graduated over the summer, you will no longer see my name on any of your rosters, and you will no longer be getting any more of my money! Thanks for everything I have learned!