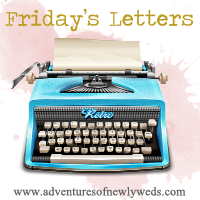 Dear Friday,
I am so glad you are finally here! Every week I am reminded how thankful I am for you.
Dear Husband,
I really hate when you have to work the night shift on weekends. I prefer weekends when we are both off work.
Dear Mom,
I'm looking forward to our day together tomorrow. We always have so much fun!
Dear School Year,
Hurry up and be finished! I am just as ready for summer break as my students!
Dear Rainy Weather,
I love you and I am so glad you are here today!